Spring 2020 PTA Fundraiser:         Apex Fun Run
The Apex Fun Run team will be kicking things off in a big way on Tuesday, March 19 with a full school Pep Rally.  Starting on Wednesday, March 20, Apex coaches will be visiting every classroom, daily, to motivate, encourage and help all Bailey students become APEX STRONG (Selfless Trustworthy Refuel Overcome Next Level Grateful).
Here's the website for you to log in with your child (students will receive their individual "access codes" after the Pep Rally on the 19th. These will allow them to go to their own webpage and enter pledges in online. They will not have the ability to login until they get those codes.):  BAILEY APEX FUNDRAISING SITE
This is an important fundraiser for the Bailey PTA - hope you can help!
Volunteer sign up:  SIGN UP
Pictures from the Apex Pep Rally on 3/13/18: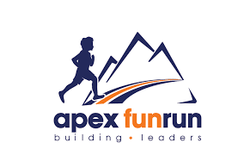 The Bailey PTA added an Apex Fun Run as part of our fundraising efforts for the 2016-2017 school year.
Apex provides a two week curriculum where "coaches" come to classrooms during the school day to encourage students and promote wellness and fitness.  The two week program culminates in a Fun Run for all students on Thursday, March 28.
Families will be able to take pledges for runners, including the option of online pledges which makes it easy for family and friends from out of town to help participate and encourage your runner/runners!  This is a fun way to help out the Bailey PTA!