Read-a-Thon 2020
The PTA holds two primary fundraisers every year, one in the fall and one in the spring. This is the second year that our fall fundraiser has been a Read-a-Thon. The 2020 Read-a-Thon will begin on November 6th and end on November 16th.
For questions, see our FAQs below.
Important Links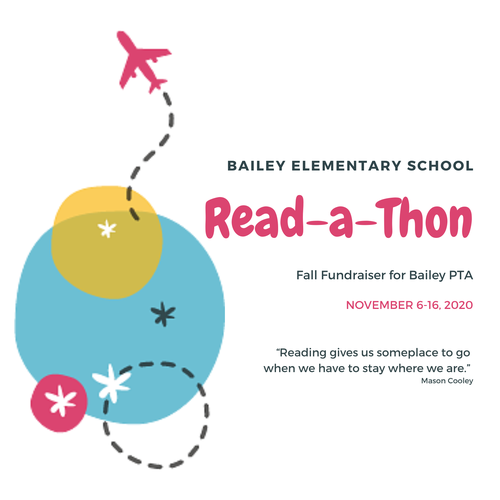 FAQs
When I donate online, how do you know which student I am donating money for? Does my student have to read a certain amount to raise money?

We are asking for flat donations and will not be tracking how much each student raises or reads.
We understand that in a traditional "a-thon" students get pledges or donations based on how much of the activity they do, such as number of minutes of reading or number of books read. However, one of our goals for this fundraiser is to keep things simple for families, and did not want to add the additional burden of keeping tally of reading minutes or pages and then also tying that to donations. We may revisit this next year, but felt like this year families are already balancing a lot of extra websites and technology due to distance learning, and we don't have the ability to do it on paper this year because our volunteers can't be in the school to help count and keep track.
If I have more than one student at Bailey, do I need to make a separate donation for each student?
No, we are not tracking how much each individual student raises. We will be tacking the overall amount donated to the school and doing fun activities when different thresholds are reached.
For the "Travel Club" on the back cover of the Read-a-Thon booklet, we are using the honor system and you can divide your donation between your students.
How are the reading activities tied to making donations?
Our goal this year is to keep things simple, so the donations are only very loosely tied to the ability for students to complete and submit the reading activities. We know families have a lot on their plates right now. Some may prefer to just donate without doing the reading. Others may want to have their students do the reading as an extra activity at home but are unable to donate. While we are hoping the Read-a-Thon will help make reading fun and encourage students to participate, and we also hope to get donations, it is up to you how much you want your family to participate.
How much time should students spend on each activity in the booklet?
Students should spent aim to spend at least 15-20 minutes on each activity.
Can my student raise more than the suggested amount?
Yes! Any and all donations in any amount are very appreciated! Our spring 2020 fundraiser was cancelled and we are unsure what spring 2021 will look like, so we are relying on the Read-a-Thon to support the PTA's budget for this year.
Can I make my donation by check or cash?
We are strongly encouraging online donations this year due to the inability of our volunteers to count cash and check donations as normal in person. We do not, however, want to put off families who prefer not to use credit cards from donating. Checks and cash may be put in an envelope and sent with your student to school. Write "Bailey PTA Read-a-Thon" on the envelope. Checks should be written to Bailey PTA.
Do you pay credit card fees for online donations?
The online store automatically adds a 3.5% plus $0.50 processing fee to every donation, so the PTA will get 100% of your donation before the fee is added.
What are the different prize levels?
For completing the reading activities:
Every student who completes the Google Form will get a small prize.
One student from each class will win a book. For VLA students, each grade counts as one "class."
The reading activities are "completed" when a student "turns in" the Travel Guide booklet by completing the Google Form link above. Do not send the Travel Guide back to school.
For donations:
School-wide "prizes" as overall school donations increase, for example teachers wearing costumes, pie in the face, etc. No individual prizes for donations. These will be announced.
There will also be some school-wide fun in-school reading activities, such as flashlight reading or reading outside, which are to encourage reading and not necessarily tied to donations.
Why should I donate to the Bailey PTA?
The PTA provides financial support for field trips, grade-level programs (Art Adventure, COMPAS writing program), classroom funds, library books and media, literacy support, technology subscriptions and hardware, Passport Club, and much more.
For other questions, please contact treasurer@baileypta.com